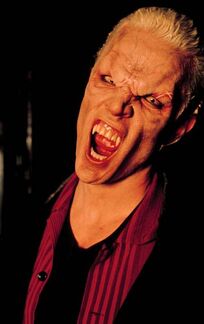 The vampire race of Buffy the Vampire Slayer (BtVS) and Angel.
"'Animinus,' derived from the Latin word 'animus,' displays this vampire's submission to the natural impulses of the animal within. As one of the most demonic of the vampire species, Animinus were said to have originated when an ancient demon infected a human host, making them half breeds. Therefore, the Animinus is known for being more in tune with their demonic side."
Applying to be a Buffyverse vamp? For the "Powers & Limitations" section of your application: Link to this page.
General Notes
Remember, all vampires:
Powers
Limitations
Blood
Becoming an Animinus
To become a vampire, the human must be drained of blood by a vampire (their sire) til almost the point of death. Then they must drink the blood of that vampire. Once the blood exchange is complete, the human will die of blood loss and then revive - sometimes in a few hours, sometimes a whole day after the siring. A new animinus vampire will awaken disoriented and confused, but this will pass, typically after the first feed. Soon, they'll experience a sensation of clarity, now being freed of a soul and adjusting to their new found powers.
A vampire has a psychic link to those he/she has sired and can sense how close/far away the sired vampire is. They can have dreams/visions about the sire vampire.
Death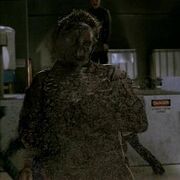 The death of an animinus results in the body and clothing turning to dust within seconds (however, the effect of a vampire poison which prolongs the death is unknown). An animinus can be killed through plunging a wooden stake in the heart, fire, decapitation, or sunlight.
Related Pages
See also:
Buffy the Vampire Slayer Canon